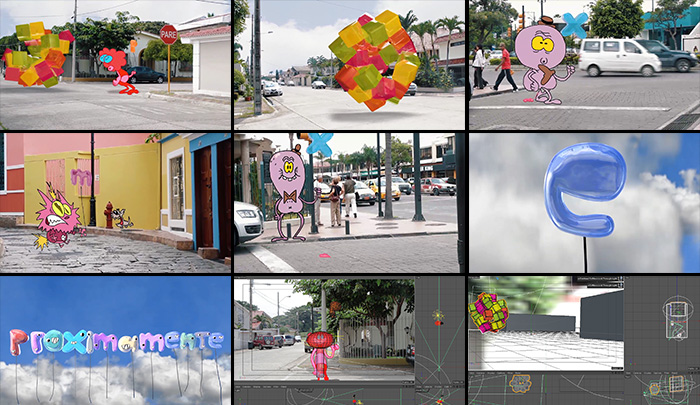 I have been working this past weeks on a very cool project. There is a new educational TV Channel opening on my country and they need their whole "on screen" channel branding done for them. I am producing a short demo for them with Nuno Acosta and Andrés Silva (AKA "Makinita"). We are not using their logo or brand directly but showing some of the style and ideas we could do for their branding. We decided to use a mix of real footage, 2D animated Characters and some 3D elements.
The demo is not finished yet but I wanted to share in this post some behind the scenes, tests and very short "almost finished" videos from it.
Nuno Acosta: Concept
Makinita: 2D Character Animation
Me: Direction, Camera Shoot, 3D model and animation, compositing, editing.
——  Some shots (not final audio, animation or color grade):  ——
Scene "Próximamente" (short section)
First Scene Shot 01 "Almost finished":
MORE AFTER THE BREAK ————————
Scene 01 (short preview):
Scene 02 (short preview):
Scene 03 (short preview):
Balloon Dynamics Test:
Animated eye balloon Test:
Behind the Scenes of the dynamics system I did for the balloons' motion:
Behind the scenes of a Character Matchmove (I had to match the movement of him so I can then animate the balloon and string in his hand):
——  Some behind the scenes photos from production day  ——